TOURISM NEAR HOTEL ALBORÁN ALGECIRAS


BEACHES
Algeciras has two extensive beaches , Rinconcillo and Getares, which offer a series of services that have earned the latter the blue flag.
Tarifa has an endless and beautiful beach that extends to a paradisiacal place called Ensenada de Valdevaqueros, nicknamed as the "Paradise of Kitesurfing".
It is followed by the beach of Punta Paloma , a beautiful place between Mediterranean pine, sun and crystalline waters. And finally the Bolonia Beach where the old Baelo Claudia is located, whose ruins show what was an important fishing town of the Romans.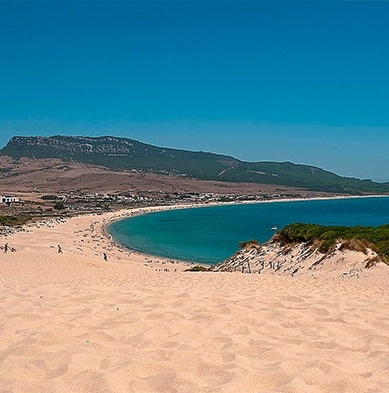 CAMPO DE GIBRALTAR
The Campo de Gibraltar is the southernmost region of the province of Cádiz. Its privileged location between two seas (Mediterranean and Atlantic) and between two continents (Europe and Africa) as well as a hundred kilometers of golden sands or steep cliffs and the wonders of the Alcornocales Natural Park, make it the favorite point of many visitors who choose it as a resting place .

Eight are the municipalities that make up the Campo de Gibraltar Region. Algeciras, La Línea and Tarifa are cities overlooking the sea, as well as part of the municipalities of San Roque and Los Barrios. Castellar and Jimena de la Frontera are located inland, in the Los Alcornocales Natural Park. San Martín del Tesorillo.


ALGECIRAS
On the shore of the bay and opposite the Rock of Gibraltar you will find ALGECIRAS, named after the Arabic "Al-Yazirat-Alhadra" which means "Green Island". A cosmopolitan city, its port is currently one of the most important in the Mediterranean in terms of fishing activities and the transport of goods and passengers.
Places of interest:
Plaza Alta, Nuestra Señora de la Palma Church, San Isidro Neighbourhood, Maria Cristina Park, Nuestra Señora de Europa Chapel, "Ingeniero Torroja" Market, Municipal Museum and remains of the Andalusian Baths and Merinid Walls.

Fans of nature can go on an excursion to Punta Carnero Lighthouse and continue to reach isolated coves like Calarena Beach where you can enjoy exceptional views of the Strait of Gibraltar. Alternatively, you could take on routes like the "Sendero del Río de la Miel" or the "Sendero de la Garganta del Capitán".


ROMAN RUINS
Carteia Ruins
Situated 4 kilometres from San Roque, Carteia was a Phoenician and Roman city. It was the first Roman colony in Spain and was established in 171 B.C.

Baelo Ruins
Situated on Bolonia Beach, around 12 kilometres from Tarifa, these are the remains of an important Roman city dedicated to fishing.


SPORT
Within Los Alcornocales Natural Park there are numerous activities you can enjoy: hiking, mountaineering, horse riding, hunting, fishing and, of course, water sports such as windsurfing, kitesurfing and diving in Tarifa. Just a few kilometres away from the establishment you will find important golf courses like Valderrama, La Alcaidesa, San Roque Club, etc.


CASTLES
Jimena de la Frontera
The castle in Jimena was built on a Roman fort and it dates back to the 13th century. It was constructed by Granada's Nasrids and was used during the Peninsular War to fight against the French. It was declared a national monument in 1931.

Castellar de la Frontera
Both its location in a natural setting and the unity and beauty of this place provided the bases for the Walled Area of Castellar being declared an Historic and Artistic Site in 1963.

Castle of Tarifa
This building is considered one of the best examples of Arab military architecture and perhaps the best example of Caliphate art in this type of fortification. Its construction was ordered by the Caliph Abd-ar-Rahman III and was completed in the year 960.